Commercial Epoxy Flooring Austin TX
Proudly serving Austin as a leading flooring company.
Commercial Epoxy Floors Austin, TX
Epoxy is a rigid anti-slip flooring that can withstand heavy foot and equipment traffic. It is a blend of resin and hardener that produces a durable plastic-like finish resistant to both chemicals and abrasion. Commercial epoxy flooring, Austin TX provides the ideal concrete resurfacing if you want to improve the safety, durability and aesthetic appeal of your flooring.
Since commercial epoxy can be customized to suit any business needs, its application is quite broad. It comes in different types including self-leveling, graveled, mortar, terrazzo, flaked and antistatic among others. At ATX Epoxy Flooring, our mission is to help you identify and install the right epoxy flooring for your needs in Austin TX.
Commercial Garages

Auto Shops

Warehouse Floors

Food Industry Flooring

Industrial Floor Coatings

Factories

Machine Shops
Airport Hangers

Gym Floors

Retail Flooring

Medical Offices and Medical Facilities

Government Buildings & Firehouses

Education Facilities

Hotel Flooring
Epoxy for Commercial Garages
Epoxy combines durability and aesthetics to decorate any indoor concrete surface. It can be applied on any concrete surface to form tough slip-resistant flooring & withstands oils and corrosive liquids. Using epoxy flooring on your commercial garage will not only add functionality and decoration, but also improves safety. In an area exposed to heavy traffic, epoxy's abrasion resistance is something you will need to keep your commercial garage attractive and solid. It is also a wax-free easy to clean surface that can sparkle with soap and water only.
Commercial Restaurant Flooring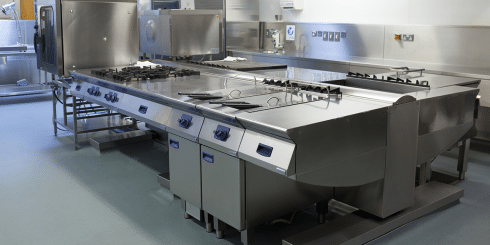 Although food industry flooring is exposed to spills and heavy foot traffic, customers walk in expecting a safe clean floor. It should also be appealing, blending seamlessly into the created interior décor. Epoxy provides exactly what is needed. It can be customized with your own color scheme and logo design to present a soft canvas for your restaurant entrance. It also reduces the load of cleaning and maintenance especially in kitchens and restaurants. More importantly, commercial epoxy flooring is slip resistant and meets the industry standards set for safety in the food sector. No bad odors, no tough stains, easy maintenance.
Medical Offices and Medical Facilities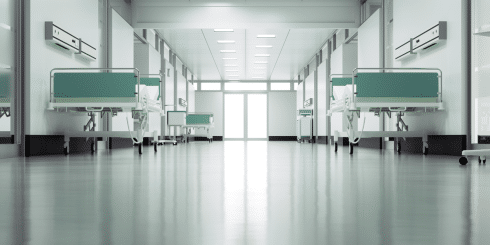 Safety and hygiene are among the top priorities when choosing flooring for a medical facility. Aspects like aesthetics, durability and ease of cleaning are also very important. Epoxy flooring does not only exhibit all these properties, but also provides a soft low-sound surface ideal for medical offices. Cleaning and sanitizing epoxy floors is simple & effortless compared to other options and they can also improve room lighting.
Retail Store Epoxy Floors
Retail stores and commercial outlets attract a diverse customer base comprising of children, adults, wheelchair-bound citizens and seniors who may also bring their pet. This calls for an efficient floor that is safe, anti-slip, easy to clean, wear-resistant and durable. Epoxy is the clear solution to meet all these needs. It is also customizable with various colors and patterns to create exceptional aesthetic appeal. What's more, epoxy is very easy to clean and comes in seamless designs that do not trap dirt or moisture. They are also cost-effective compared to other resurfacing options.
Industrial and Manufacturing Epoxy Floors
Looking at all the options available for industrial flooring, epoxy is arguably the most reasonable and reliable choice. Concrete floors are known to be hard, slippery, moisture-permeable, porous and unattractive. If you consider industrial stain potential, foot and machinery traffic, concrete does not present the best option. This is where resurfacing and refinishing options like epoxy come in handy. It is durable, slip and stain resistant and attractive. The end result is a strong appealing flat surface that is easy to clean and maintain.
Here are some of the best reasons to consider a fast-curing commercial epoxy system:
Waterproof underlayment options
Resistant to acids, chemicals and other solvents
Water resistant and tolerates moisture
Easy maintenance and cleaning
No waxing or polishing
Durable - withstands high impact and heavy loads
Protects the concrete
Environmentally Friendly
Both production and use of epoxy does not pose any threat to the environment. Epoxy is also renewable as the resin floor can be revitalized through sanding and recoating – no old tiles or hardwood that is bound to wear and tear with age. It is easy to clean requiring no chemicals and can be used to improve the durability of concrete floors.
Durable
Epoxy is indeed more durable than most refinishing applied to concrete floors. It is chemical and abrasion resistant making it the ideal resurfacing for high traffic areas prone to wear.
Attractive
As mentioned, epoxy flooring can be customized to meet any needs. Unlike the bland-looking concrete floors, epoxy comes in different colors and patterns. They can also include customized color schemes and company brand logos to further improve the indoor décor.
ATX Epoxy Flooring is Here for Your Flooring Project
There are countless benefits of using epoxy for your commercial flooring needs. If you are interested in installing this economic resurfacing, ATX Epoxy Flooring can help you find and install the best solution for your needs. We have the experience and capacity to finish any epoxy resurfacing whether in your commercial garage or retail store.
HOURS
Mon-Friday: 9am-6pm
SERVICE REGION
Austin, TX