The main difference between Marble and Metallic Epoxy is that marble is a natural stone, whereas metallic epoxy is a man-made coating. Marble has been used for centuries, but it's not suitable for all surfaces. For example, it's difficult to install in high-traffic areas because the natural stone tends to show more wear and tear over time. 
Metallic Epoxy on the other hand can be applied to almost any type of surface—from concrete floors to walls, doors, and countertops. It's also more durable than marble so you don't have to worry about chips or cracks as much as you would with natural stones like granite or marble. 
Metallic epoxy is a type of coating that can be applied to a variety of surfaces, including wood, metal, and concrete. It's made up of two parts: a resin and a pigment. The resin acts as the base for the metallic epoxy and helps it adhere to whatever surface you're applying it to. The pigment gives your metallic epoxy its color and shine. 
Metallic epoxy is perfect for adding some extra pizzazz to your home or office. Because it comes in many different colors and finishes so you can even get custom colors if you want.  It's also extremely durable, so you won't have to worry about chipping or cracking as other paints or stains do. 
What Colors Are Available in Metallic Epoxy?
Metallic epoxy is a versatile material that can be used to create a range of effects, from natural hues to bright colors that pop. You can mix multiple colors for a more dramatic effect and layer them for a 3d effect.  
ATX Epoxy Floors offer nearly unlimited color options for metallic epoxy Austin TX. Our color selection includes natural hues and bright colors that pop, making it easy to find exactly what you're looking for.
How is Metallic Epoxy Installed?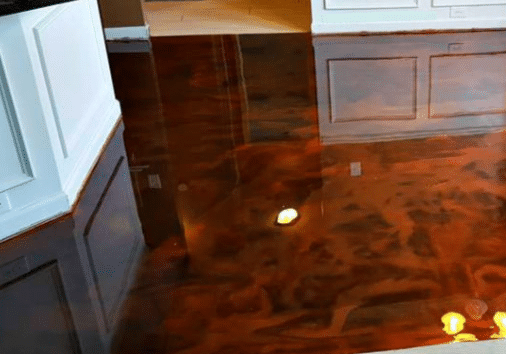 Metallic epoxy is installed using an adhesive that bonds with the surface of your floor or wall. The adhesive makes sure that the coating stays in place while also preventing any damage from occurring due to scratches or scrapes.  
Once it has been applied, the coating will be durable enough. It can withstand heavy foot traffic without becoming damaged easily by stains or other problems that may occur due to normal use. 
Where Can You Install Metallic Epoxy?
A metallic epoxy is a great option for any business that wants to have a catchy interior. It's very easy to install and it looks amazing. You can install it in: 
Retail spaces (stores)

Restaurant

flooring

Showrooms (

repair

or car dealerships)

Home interior

epoxy floor

s

Garages and more
Environmentally Friendly
Both production and use of epoxy does not pose any threat to the environment. Epoxy is also renewable as the resin floor can be revitalized through sanding and recoating – no old tiles or hardwood that is bound to wear and tear with age. It is easy to clean requiring no chemicals and can be used to improve the durability of concrete floors.
Durable
Epoxy is indeed more durable than most refinishing applied to concrete floors. It is chemical and abrasion resistant making it the ideal resurfacing for high traffic areas prone to wear.
Attractive
As mentioned, epoxy flooring can be customized to meet any needs. Unlike the bland-looking concrete floors, epoxy comes in different colors and patterns. They can also include customized color schemes and company brand logos to further improve the indoor décor.
Design Your Dream Space with Endless Metallic Epoxy Options
Metallic epoxy is the perfect way to showcase your brand. It can be applied to any surface, so you don't have to worry about matching it up with the right materials. And this material is easy to install and remove as needed for renovations or reconfiguring residential flooring.  
The metallic epoxy options are endless; we're here at ATX Epoxy Floors if you need any help designing your dream space! 
HOURS
Mon-Friday: 9am-6pm
SERVICE REGION
Austin, TX