Proudly serving Austin as a leading flooring company.
Residential Epoxy Floors Austin, TX
Epoxy flooring is one of the popular concrete resurfacing options in the market. It can be customized to meet any flooring needs ranging from commercial to residential and industrial applications. Epoxy floor is particularly ideal for your home and can be used to improve the durability, functionality and aesthetic appeal of interior surfaces. It comes in various forms, color patterns and styles to suit any interior design and you can also create your own color scheme.
At ATX Epoxy Flooring we strive to help Texans find the best solution for any flooring needs. With over 15 years of experience, we are your local epoxy experts for installing new flooring in your home. Epoxy is great for virtually any flooring surface of your property, protecting your concrete and increasing your investment's value. We often install epoxy for:
Garages

Patios

Kitchens

Porches
Bedrooms

Hallways

Bathrooms

Pool Decks
Metallic epoxy floor is a popular epoxy style for residential projects. It is made using different metallic additives providing a wide range of vibrant colors and effects. From ruby metallic to solid silver tint, metallic epoxy offers the brilliant finish needed to create a distinct décor. Epoxy is also self-leveling and produces seamless flooring that runs the entire space making it the ideal finish for any concrete surface. Metallic epoxy is perfect for the kitchen, living room, bedroom and any other interior floor.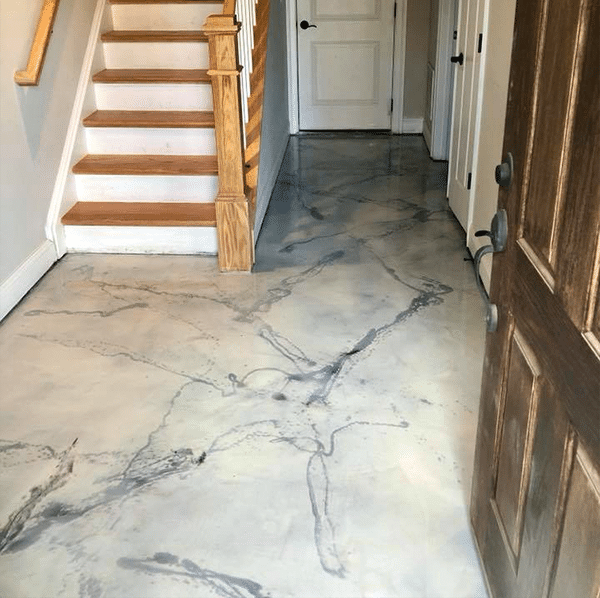 Marble epoxy is commonly used for decorative purposes. Whether you prefer grey marble, kitchen marble or black-and-white marble, ATX Epoxy Flooring will help you install the best marbled epoxy floor in your rooms. Epoxy brightness can be increased by 200% to form a shiny high-gloss finish. You can also find swirl and liquid marble. Like metallic epoxy, marble finishing can be installed on any concrete surface. It drastically improves the aesthetic appeal of your home.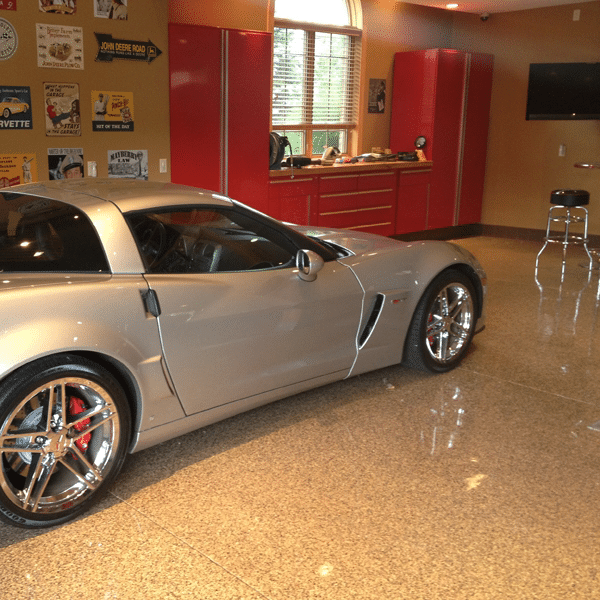 If you want to install epoxy floor on your patio, garage or any other high traffic space, then flaked epoxy is a great option. Like other epoxy finishing, it is tough, attractive and seamless. You can choose acrylic flakes to provide a decorative hygienic floor that is both durable and easy to clean. Flake epoxy also comes in a wide range of options including sealed finish that keeps the top surface smooth and impermeable. The colors of flakes come in a wide variety to match the decor of any room or garage.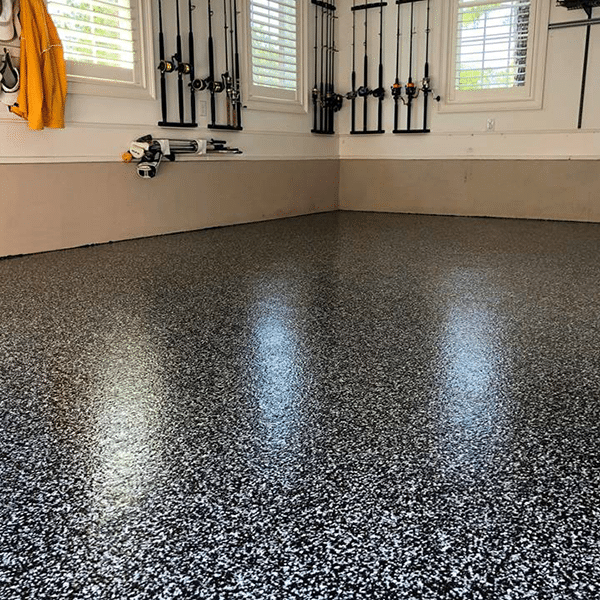 Garage floors can greatly benefit from chip epoxy. The design still provides all the benefits of contemporary epoxy floor including durability, low maintenance, safety and aesthetic appeal. As the name suggests, chip epoxy offers a flaky appearance ideal for garage floors. Installation of concrete flooring usually results in minor imperfections due to surface air bubbles. Although this can be perfect in some situations, you can always change it. Covering concrete with chip epoxy floor will not only mask the imperfections, but also provides a unique aesthetically pleasing finish. We install top quality chip epoxy floors in Austin TX garages both residential and commercial.
Solid Epoxy With Decorative Flakes
Decorative flakes are perfect if you want something different. While chip epoxy offers a uniform fragmented appearance that runs the entire floor surface, solid epoxy with decorative flakes allows you to form intricate patterns with your decorative elements. There are several options to choose from in terms of colors, patterns and styles. You can also add personal touches to further customize your floor and set it apart from the rest. Our team can install solid epoxy with decorative flakes on any floor. They are ideal for entrances, hallways, decks and patios, commercial outlets, warehouses and storage rooms, office floors and residential application.
Adding reflective properties to epoxy flooring is quite trendy in Austin TX, mainly because the final product is exquisite. Reflective epoxy is sometimes confused with metallic epoxy because they both have a deep reflective shine. There are some distinctions however, and reflective epoxy can be used to enliven dimly lit rooms and spaces. There are several designs to choose from and you can always customize your epoxy by incorporating other features. Reflective epoxy does not only improve lighting, but also provides a durable anti-slip flooring that is visually appealing. We can help you install top-notch reflective epoxy floors in your home, office or business outlet.
Choosing kitchen flooring can be daunting especially since there are various things to consider. Your kitchen floor should be durable, safe and easy to clean. These are the three main merits of epoxy flooring in addition to low maintenance. Epoxy kitchen floors are very easy to install and maintain. Cleaning is also an effortless task thanks to epoxy's anti-stain properties. It provides a seamless water resistant anti-skid surface ideal for any residential or commercial kitchen. Epoxy floors are also very appealing and will improve the interior decoration of any kitchen. What's more, you have a wide range of colors, patterns and styles to pick from.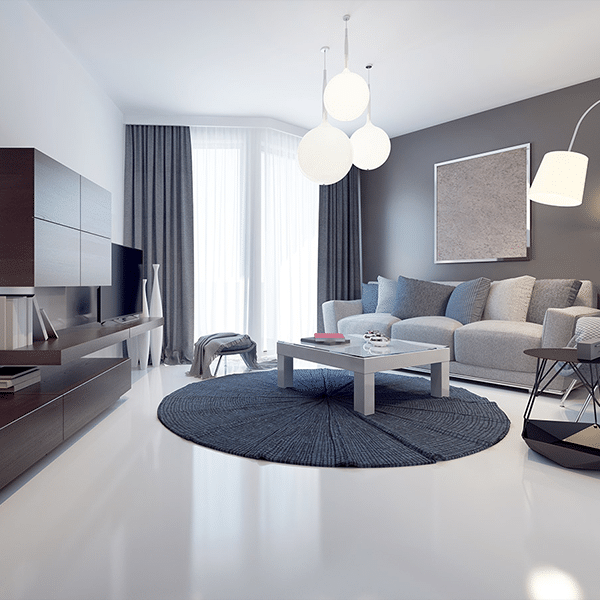 Although patterns, flakes and color variation add aesthetic appeal to epoxy floors, they can quickly become cliché. Some rooms are simply better off with solid colors. Solid color epoxy floors offer stunning beauty and can be installed anywhere. They are best suited to offices, board rooms, convention halls and commercial applications. Solid colors are also perfect in homes and can be installed in living room floors, bathroom, driveways and decks. You can choose any color you want to achieve or even make you own by blending different colors together. We can help you install top quality solid color epoxy floor and achieve whatever you have in mind.
Applying urethane polish to steps can be overwhelming and time consuming considering you will be required do it frequently. Fortunately, epoxy floors have a permanent urethane appeal that does not need brushes and rolling pads to maintain. We can install epoxy steps that do not only look beautiful, but also offer safe sturdy surfaces that are very easy to clean. The choices are also wide open and you can customize your steps to look as great as you want them. Whether you need a small lift from your living room to your dining room or simply have stairs leading to a basement, our team will help you install the best epoxy floor steps for your needs.
The process of installing epoxy floors is quite unique compared to other flooring options. At ATX Epoxy Flooring, our aim is to help you determine and install the best epoxy flooring on your concrete surfaces. The variety of epoxy allows us to approach installation artistically. Our design process includes taking your input/description before presenting available options. You can look at our picture gallery to find inspiring styles and effects.
Once you find your style, all you need to do pay a refundable deposit so we can start creating your samples before the actual project. We will then provide the samples for your approval. If you like the prototypes, we will create a price depending on the complexity of work involved and quantity of material required. The last step is to schedule the installation dates and transform your surfaces into attractive decorated floors.
Advantages of Epoxy Floors for your Home
Epoxy floors have several benefits compared to traditional finishing used to cover concrete surfaces. It is very flexible and can be customized into stunning color schemes and effects. Epoxy is also very cost effective and can be used for any concrete resurfacing needs. Some of the top benefits include:
Environmentally Friendly
Epoxy naturally increases the life of concrete floors. It can also be revitalized through sanding and recoating. What's more, its production does not pose any threat to the environment. Epoxy can be used to increase lighting in a room thereby reducing energy bills spent in artificial lighting. It also reduces noise produced.
Durable
Epoxy is abrasion resistant, chemical resistant and anti-wear making it one of the most durable finishing applied to concrete floors. It is also stain resistant and impermeable so there won't be any moisture issues. Easy to maintain, epoxy protects your concrete slab while giving you amazing looking floors!
Attractive
While plain concrete is bland and vulnerable to stains & abrasions, epoxy is very attractive and can be used to decorate any space. It comes in various metallic accents and can be made to resemble plush marble and quartz floors. Epoxy floors can also be customized to improve the interior décor of your room. You can install different color schemes and include personalized effects including brand names and patterns.
ATX Epoxy Flooring is Here for Your Flooring Project
Residential epoxy floors are increasingly becoming popular and the trend is expected to continue considering all the benefits epoxy provides. It is recommendable to work with reputable professionals who can help you find unique epoxy that matches your needs and personal style. Once you understand what you want to achieve and how the final surface should look, we can produce the perfect match without any compromise on quality.
HOURS
Mon-Friday: 9am-6pm
SERVICE REGION
Austin, TX