Garage Flooring in Austin, TX
Epoxy is without a doubt one of the best concrete resurfacing options for your garage floor whether commercial or residential. Besides durability, epoxy offers unmatched aesthetic appeal and you do not have to break the bank. However, the final result you get will depend on the quality of service offered. It is advisable to work with experienced professionals known to install the best garage epoxy floors in your region. This is exactly what we offer to Austin TX residents at ATX Epoxy Flooring.
Home Garages

Patios

Porches
Affordable Epoxy Garage Flooring
Epoxy garage floors are durable, versatile and very economical compared to other options. Epoxy can also be applied on any concrete surface and is renewable through sanding and recoating. Whether you have an elite design or a simple detached garage, epoxy flooring will improve indoor aesthetics and reduce maintenance costs at the same time.
Expert Epoxy Floor Repairs
Although epoxy flooring seems to have all the answers, not every project will produce desirable results. You still need to work with reputable epoxy experts that can meet your needs. At ATX, our aim is to install epoxy floors that do not only meet your anticipations, but also reflects your personal style. We offer professional consultancy, installation and maintenance advice to ensure you have the best epoxy flooring in your garage. However, Epoxy garage floors may get chipped or cracked especially since the garage is a high traffic area. When this happens, our expert floor repair services can help you restore the surface and prevent further damages.
Great Investmet for Your Home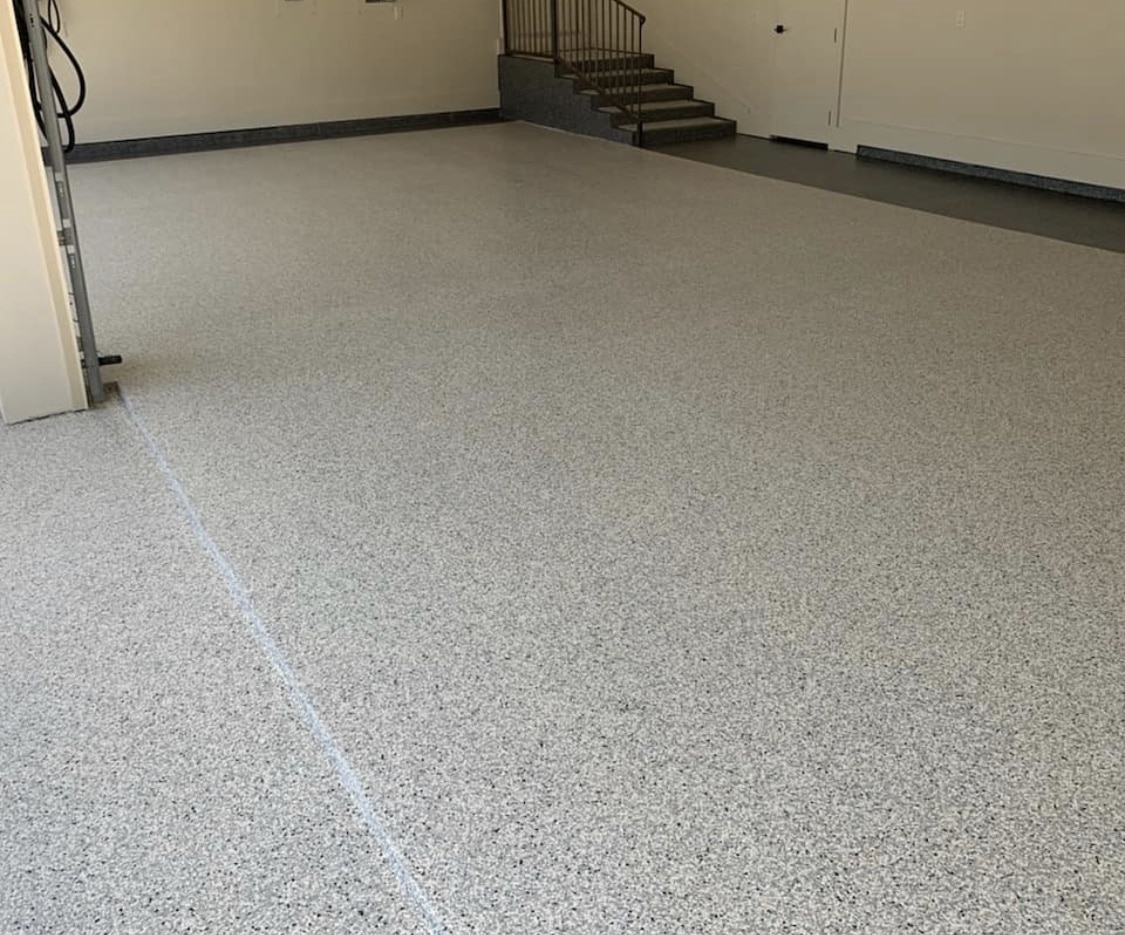 The value of professionally installed epoxy floors is undisputed. Besides being economical in terms of installation, epoxy has several benefits compared to competing alternatives. It requires minimal maintenance, is chemical and abrasion resistant, easy to clean, anti-slip, fully customizable and can be renewed. Epoxy is very durable and can be applied on any concrete surface. It is also great for decorative purpose as it allows you to include favorite colors, patterns and even brand logos.
Benefits of Epoxy for Garage Floors
Epoxy has several benefits compared to other concrete resurfacing options in the market. This resin based flooring begins as a liquid that hardens into a durable slip-resistant surface. Some of its benefits include:
Stain Resistant
Garage are notorious for tough stains and grime. Epoxy garage floors combine functionality with aesthetics creating the ideal solution that is very easy to clean and does not require any waxing. All you need is soap and water since epoxy is seamless and stain-resistant.
Versatile
Epoxy flooring comes in various forms ranging from self-leveling to mortar, graveled, flaked, terrazzo, and antistatic. It can be customized to fit any needs and accommodates different colors and patterns. You can choose marble effect, quartz, metallic or flake among others.
Simple, Fast Installation
At ATX Epoxy Flooring, we make the installation process very simple. Our team will provide different options and a picture gallery that includes possible solutions from the input you provide. We can then start working on samples and prototypes once you settle on a given option. If you like the samples, we can immediately schedule installation. We also offer epoxy floor coating to prevent moisture infiltration and slow down the weathering process.
ATX Epoxy Flooring for Stylish Garage Flooring
Epoxy simply has the hallmarks of a great flooring option; durable, affordable, attractive. If you like to create a personalized style for your interior and exterior surfaces, epoxy is the way to go. You have a wide range of options to choose from and the decorative capacity is unlimited. You can add shapes, names images, hues, light reflecting colors, polished finish and so much more!
HOURS
Mon-Friday: 9am-6pm
SERVICE REGION
Austin, TX