Epoxy Flooring San Marcos, TX
ATX Epoxy Flooring offers epoxy flooring for residential and commercial spaces in San Marcos, Texas. We are a family-owned business with over 20 years of experience in the industry. Our company is dedicated to providing customers with high-quality products that will last a lifetime while also providing impeccable customer service and satisfaction. Our mission is to provide you with the best epoxy floors at competitive prices so that your home or place of business can be unique and attractive while also being safe.
Why Choose ATX Epoxy Flooring?
When you choose ATX Epoxy Flooring, San Marcos, TX, for your epoxy flooring needs, you can rest assured that you're getting the best possible product and service. We use only the highest quality materials, and our team of experienced professionals is always available to answer any questions or concerns you may have. We're also proud to offer a 100% satisfaction guarantee on all of our work, so you can be confident that you're making the best decision for your home or business.
What are the benefits of epoxy floors?
There are many benefits to having epoxy floors. Epoxy floors are solid and durable, making them perfect for high-traffic areas. They are also easy to clean and maintain, which is ideal for areas with a lot of foot traffic. In addition, epoxy floors are slip-resistant, which is essential for safety in areas with a lot of foot traffic.
Epoxy floors are also very stylish and can be customized to fit the aesthetic of any space. They come in various colors and finishes, so you can create a look that is unique to your space. Epoxy floors are also low-maintenance, so you won't have to worry about them requiring a lot of upkeep.
Contact Us for Fast, Affordable Epoxy Floors in San Marcos
What services are offered?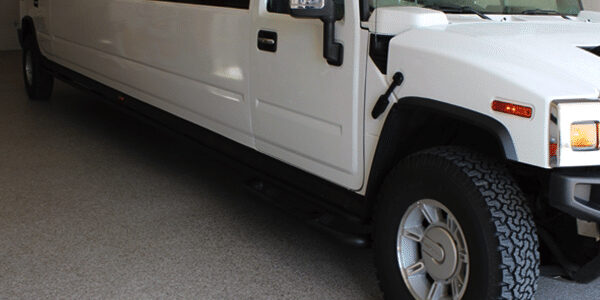 Epoxy garage floors are an excellent choice for any garage. They provide a rigid surface that is resistant to impacts and spills, making it the perfect flooring solution for garages where cars are stored. Installing epoxy takes more time than painting a floor, but our company can easily handle the two-step process. High-quality epoxy can resist stains and spills while looking great, making them the best option when you need a hard floor in your garage!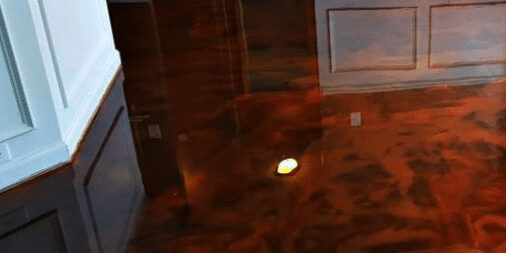 Residential epoxy floors are a perfect way to protect your property and give it an up-to-date, sleek look. The process is designed by professionals who have been installing epoxy for years, so you can trust that the product will be installed correctly. Epoxy flooring is durable, easy to maintain, and has a beautiful finish that won't wear or peel off—making this an excellent option in any room of your home.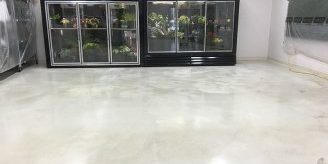 Epoxy floors are a great way to improve the look and functionality of your commercial facility. Our team can install epoxy floor coatings that are tough enough to withstand heavy loads and chemical spills while also providing extra slip resistance for safety. Our epoxy floor coatings are highly customizable, so you can choose a design that will complement your business's style.
Sealing an industrial floor with epoxy is the best way to ensure it will continue to serve you well for years to come. Before sealing your floor, our crew will inspect it, remove old floor coatings if needed, handle any necessary repairs, and clean the floor. Then, we'll pour high-quality epoxy in a two-step process. Once we're finished, you'll be able to start using your durable and beautiful new floor.
Installing epoxy coatings for pool decks is one of the smartest decisions. This will protect your surface from moisture and cracking, but it will also keep it looking fantastic. Our epoxy is slip-resistant, so you can avoid any dangerous accidents. Plus, we have a variety of colors and styles to choose from so that you can find the perfect look for your deck!
There are different types of epoxies to choose from that will match your flooring projects:
Metallic epoxy coating

Metallic epoxy flooring is an increasingly popular option for home and business owners alike. This type of flooring is incredibly durable, making it perfect for high-traffic areas, and its striking visual appeal is sure to turn heads. Our team of experienced professionals can install a metallic epoxy floor uniquely suited to your needs and style preferences. So, if you want a floor that will make a statement, Metallic Epoxy Flooring is a perfect choice!

Marble epoxy floors

Marble epoxy floors are a great way to enjoy the look and feel of marble without the high cost. Our marble-like flooring is created by adding metallic pigment to our epoxy while pouring it, which gives it its beautiful coloration. Marble epoxy can be done with white as a base coat and a dark gray pigment for traditional marble, or you can mix up any colors you want!

Flake epoxy

Flake epoxy flooring is a great way to have a classy, durable, and stain-resistant floor. The vinyl flakes offer you a mosaic-like appearance that will make your floor look great. With these floors, you'll also enjoy the benefits of an epoxy floor, such as being water-resistant and easy to clean. Choose us to install flake epoxy!

Striped epoxy

If you're looking for a way to organize your industrial facility, look no further than striped epoxy. Our team can pour and stripe epoxy floors of any shape or size, so you can use these strips to create guidelines that will keep employees safe. With this flooring option, you'll also find it easier to keep your facility clean and tidy.
Solid epoxy

Solid epoxy floors are an excellent option for those seeking simplicity and durability. As the area's finest company, we can create an epoxy floor in any color you choose. Your floor will stay in great shape while retaining its coloring for years to come. And while epoxy flooring is always great value, you'll be able to save even more by not adding decorative pigments or flakes to your new floor.

Matte epoxy

Epoxy flooring is often thought of as being "shiny," but the floors we install can also have a matte finish if you'd prefer. Epoxy flooring is an excellent choice for high-traffic areas because it's durable and easy to clean. In fact, epoxy floors are resistant to chemical spills, heavyweights, and more! If you want a floor that will look great and last for years, call us today to learn more about our matte epoxy flooring services. We can provide you with a free estimate to see how much your new floor will cost.

Epoxy chips

Epoxy chip floors are a beautiful and unique way to add some personality to your space. They look great, but they're also incredibly durable and long-lasting. Our epoxy chips are available in any color you can imagine, and we offer a wide variety of shapes and sizes to create a floor that's truly one-of-a-kind. If you're interested in installing an epoxy chip floor in your home or business, contact our team today! We would be happy to help you get started.
Typical applications for epoxy flooring
Below are some of the standard applications of our epoxy flooring solutions  
Garages

Epoxy garage floors are a great way to improve the look and feel of your garage. They look great, but they also withstand heavy traffic and are resistant to chemical spills. Our team can install an epoxy floor that perfectly matches your style and needs. We offer a variety of colors and textures to choose from, so you can find the perfect fit for your garage.  

Basements

Epoxy flooring is the perfect way to make your unfinished basement feel like a finished space. Best of all, it's more durable than any other type of flooring and can last for decades with regular maintenance. For the best results, call a professional to install this type of flooring so you won't have to worry about ever replacing it again!

Warehouses

Epoxy floors and warehouses are a natural combination. Our team of epoxy installers uses the highest-quality materials available and understands the two-step installation process perfectly. As a result, your facility will get an epoxy floor that's more durable than any other flooring option. Along with that, we can put in epoxy flooring that matches the appearance of your building.

Factories

Epoxy floors are a great way to improve the look and safety of your factory. Our team can pour epoxy quickly and efficiently, minimizing your downtime. When your floors are ready for use, you and your employees will benefit from their unmatched strength and slip resistance. For safer, more durable factory floors, pick epoxy today!

Restaurants

If you're looking for a floor that is easy to clean and highly resistant to spills, epoxy floors may be the perfect solution for your restaurant. Our epoxy floors are slip-resistant, making them a safe choice for your kitchen staff. Plus, they are resistant to most common chemicals and solvents, so you can rest assured that your floor will withstand even the messiest kitchens.

Patios

Epoxy is an excellent material for patios, as it can be used to create a variety of effects. Epoxy is also impervious to water and weathering. You can choose an epoxy with a high gloss finish or one with more texture. Epoxy has been used on all sorts of surfaces, from decks and walkways to commercial buildings worldwide!

Schools

Epoxy flooring is an excellent choice for school floors. It's durable and resists spills, so your janitorial staff won't have to spend as much time cleaning. Epoxy also looks fantastic, so it will make your school look modern! Let us install an epoxy floor that will be easy to maintain while looking fabulous.

Medical facilities

When you need a floor that will stand up to the rigors of a medical facility, epoxy is always a great choice. Our epoxy floors are easy to clean and resistant to spills and stains, perfect for any medical setting. Plus, our floors are backed by a lifetime warranty, so you can be sure they'll last for years to come. Contact us today to learn more about our epoxy flooring options!
Interesting facts about San Marcos TX
Geography
San Marcos is a city located in the Central Texas region of Texas. It is the county seat of Hays County. The town is on the Interstate 35 corridor between Austin and San Antonio and is the home of Texas State University. The city limits extend into Caldwell and Guadalupe Counties, as well.
History
In 1808, the Spanish government granted land to ignite a mission and fortify the frontier against the French and their Native American allies. The first record of a permanent European settlement on the present site of San Marcos was in 1830, when Texas Ranger Moses Morrison established a fort on the San Marcos River. By 1845, a small community had formed, and in 1851 was designated as the county seat of Hays County. The town was named after Saint Mark, the author of the second Gospel.
In 1883, colleges and universities began to be developed in San Marcos. The Southwest Texas State Normal School was founded in 1899 and became Southwest Texas State University. San Marcos is also the home of Aquarena Center, a world-class tourist destination that opened in 1990 on the former Aquarena Springs amusement park site.
Education
The San Marcos Consolidated Independent School District serves the city of San Marcos. The district has five elementary schools, two middle schools, one high school, and one alternative high school. In addition to public schools, the city is home to several private schools, including the San Marcos Academy, TMI - The Episcopal School of Texas, The Montessori School of San Marcos, and the Austin Waldorf School.
Texas State University is located in San Marcos and is the fifth largest university in the state, with an enrollment of over 38,000 students. The university offers a wide variety of degree programs, including business, education, engineering, liberal arts, sciences, and health professions.
Points of interest
Some of the points of interest in San Marcos include the Wonder World Cave and Park, the Aquarena Center, the San Marcos River, and Texas State University. Downtown San Marcos is home to several shops and restaurants and the Price Center, an entertainment complex that features a movie theater, bowling alley, and arcade. The San Marcos Outlets offer a variety of name-brand stores at discount prices.
Notable people
Some of the notable people who have called San Marcos home include former first lady Laura Bush, actor Matthew McConaughey, musician Willie Nelson, and NFL player Michael Bennett.
1. How long does an epoxy flooring system take?
An epoxy flooring system can last up to 10 years with proper maintenance. However, the lifespan of your epoxy flooring system will depend on several factors, such as the amount of traffic, exposure to sunlight and chemicals, and the quality of the installation.
2. How much does an epoxy flooring system cost?
The cost of an epoxy flooring system will vary depending on several factors, such as the size of the area to be covered, the type of epoxy used, and the complexity of the design. However, an epoxy flooring system can cost between $3 and $5 per square foot.
3. How easy is it to clean an epoxy floor?
Epoxy floors are effortless to clean and maintain. Simply sweeping or vacuuming the floor regularly will help keep it looking its best. For more stubborn dirt or stains, a mild detergent can be used.
4. What are the benefits of an epoxy floor?
Epoxy floors offer several benefits, including durability, slip resistance, easy maintenance, and chemical resistance. Additionally, epoxy floors can be customized to fit any décor and can even be enhanced with the addition of color or decorative chips.
5. Are there any disadvantages to an epoxy floor?
One of the main disadvantages of epoxy floors is that they can be slippery when wet. However, this can be remedied by adding a slip-resistant additive to the epoxy before applying. Additionally, epoxy floors can be challenging to repair if they become damaged.
HOURS
Mon-Friday: 9am-6pm
SERVICE REGION
Austin, TX